Attractions


The Escape Warehouse
400 SW Railroad Ave.,
Ponchatoula, LA 70454
(504) 264-2267
View Website
THE ESCAPE WAREHOUSE is excited to bring the amusement industry's newest thrill of Escape Games to Downtown Ponchatoula. From team building for an organization, improving communication skills between coworkers, or just fun with friends and family, Escape Games are the key. Let The Escape Warehouse put your wits to the test. With time quickly running out and only moments left to escape, you and your team must work together using reasoning, instinct, and critical thinking to find hidden passages, discover hidden mysteries, and escape before it's too late.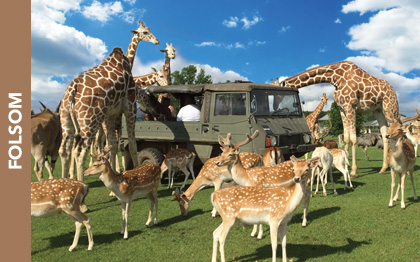 Global Wildlife Center
26389 Hwy 40
Folsom, LA 70437
(985) 796-3585
View Website
Embark on a wild interactive adventure at the Global Wildlife Center. You and your family can get up close and personal with animals such as giraffes, zebras, red kangaroos, camels, bison, and llamas.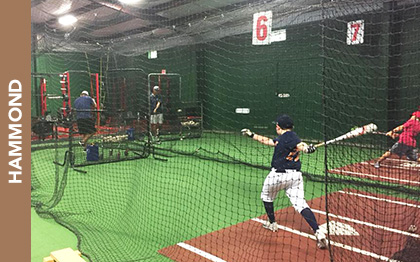 Hammond America Sportsplex
46177 N. Morrison Blvd.
Hammond, LA 70401
(985) 956-7770
View Website
Hammond America Sportsplex is one of the top training facilities in Louisiana for athletes of all sports. From baseball to soccer to cheerleading, Jay Artigues Sportsplex is helping athletes take their game to the next level.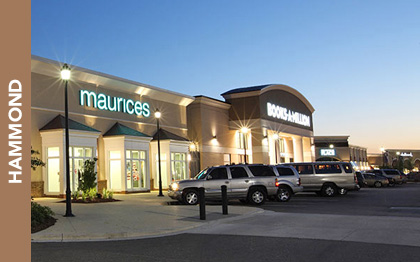 Hammond Square
I-12 & US-51 Business
411 Palace Dr.
Hammond, LA 70403
(800) 838-2379
View Website
From restaurants to favorite retailers, Hammond Square is the ideal destination to shop, eat, and have fun. Browse through stores such as JC Penney, Academy Sports + Outdoors, and Books-A-Million, grab lunch at restaurants such as Olive Garden and Santa Fe Steakhouse, and finish the day with a movie at AMC Palace Theatre.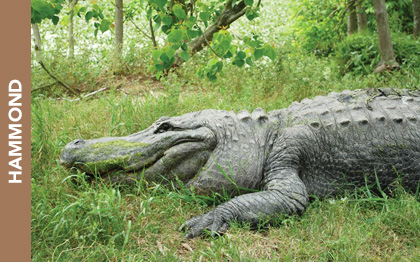 Kliebert & Sons Alligator Tours
40511 W. I-55 Service Rd.
Ponchatoula, LA 70454
(985) 345-3617
View Website
With over 300 alligators ranging from 9 to 18 feet and over 47,000 turtles, Kliebert & Sons Alligator Tours will certainly give you a feel for the swamp. You and a group of brave companions can embark on inside and outside tours and visit these interesting reptiles as they nest, sunbathe, and relax in their natural habitats.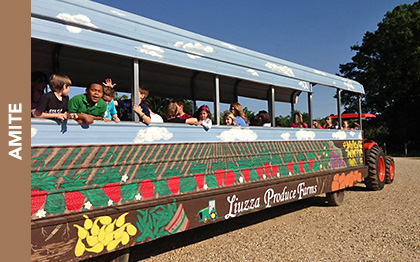 Liuzza Land
56188 Holden Cir.
Amite, LA 70422
(985) 284-0722
View Website
From attending exciting events to making priceless memories, there's always something fun to do at Liuzza Land in Amite. Visitors can board the covered wagon to learn about harvesting, pick their own strawberries and pumpkins, travel back in time and visit the Pioneer Town, and slide and jump on the gigantic Jumping Pillow and Hill Slide.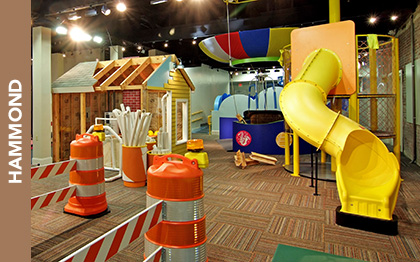 Louisiana Children's Discovery Center
113 N. Cypress
Hammond, LA 70403
(985) 340-9150
View Website
With over a dozen educational and interactional exhibits to explore, the Louisiana Children's Discovery Center makes learning fun for toddlers and children. Young visitors can create humongous bubbles at the Bubble Station, manage their very own shrimp boats at the Waterfront, and build colossal skyscrapers at the Block Buster, among many other fun activities.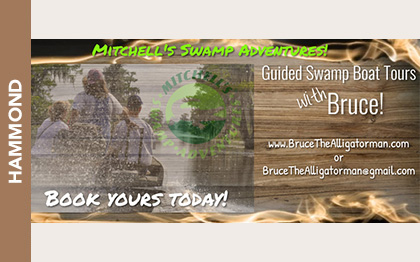 Mitchell's Swamp Adventures
41083 W Yellow Water Rd.
Hammond, LA 70403
brucethealligatorman@gmail.com
View Website
You don't want to miss this exciting, guided swamp adventure with Bruce! You will be riding in his 20ft surface Go Devil boat he hunts gators in! Bruce was born and raised hunting in the passes and bayous b/w Lake Maurepas and the famous Lake Pontchartrain! Enjoy and up close and personal exploring the swamps, bayous and passes with stories, landmarks and let's not forget the animals you may see! Gators, snakes, turtles, nutria rats, frogs, birds and so much more! Everywhere you look the scenery is absolutely breathtaking.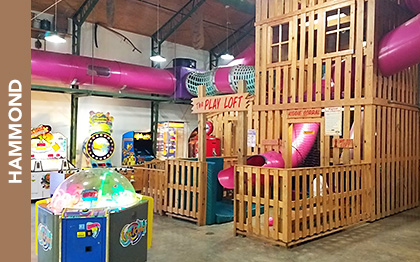 The Party Barn
15587 W. Club Deluxe Rd.
Hammond, LA 70403
(985) 687-3899
View Website
The Party Barn is The Geaux To Place for family fun! Enjoy everything from classic arcade games, to cutting-edge escape rooms, to outdoor sport activities including miniature golf and batting cages. The Party Barn also offers all-inclusive packages for parties. All you have to do is show up and enjoy!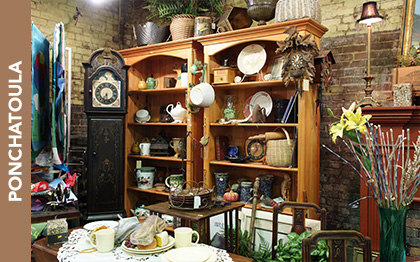 Ponchatoula – America's Antique City
Downtown Ponchatoula
(985) 386-2536
View Website
America's Antique City in Ponchatoula is the perfect destination for antique lovers. The main street offers accessibility to collectibles from country to Victorian, as well as glassware, furniture, and so much more.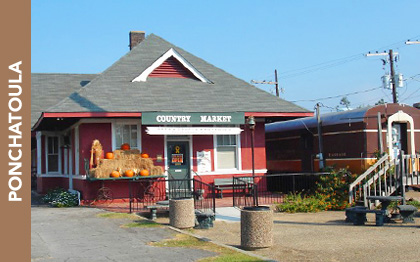 Ponchatoula Country Market Inc.
10 East Pine St.
Ponchatoula, LA 70454
985-386-9580
View Website
This historic train depot is loaded with history and treasures to explore in Ponchatoula. Meet "Old Hardhide" the ALLIGATOR city Mascot, view crafters gallery and don't forget to take a peek at the restored Illinois Central Railway Baggage Mail Car. It houses an authentic Railway Post Office museum in the rear of the car.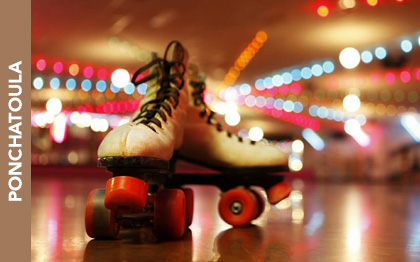 Ponchatoula Roller Rink
22024 LA-22
Ponchatoula, LA 70454
(985) 370-2560
View Website
It's always a dance party at Ponchatoula Roller Rink! Glide across the skating floor to the latest music or gather with friends to eat pizza and other tasty snacks.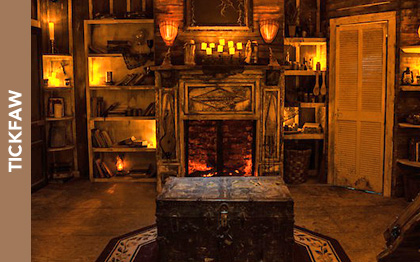 RISE Haunted House
10342 LA-442
Tickfaw, LA 70466
(985)-277-9666
View Website
One of Louisiana's scariest Dark Attractions is just minutes from Downtown Hammond, 45 Minutes from Baton Rouge and 40 minutes from the New Orleans Metro area. RISE Haunted House features three world-class attractions that will scare and entertain you…guaranteed.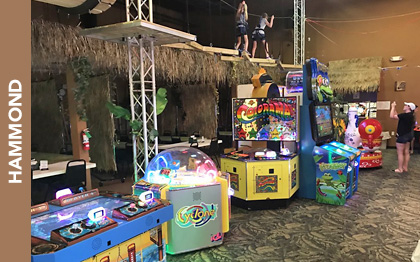 Safari Quest
200 Hewitt Rd., Ste. A
Hammond, LA 70403
(985) 340-5858
View Website
Take a walk on the wild side all under one roof at the Safari Quest in Hammond. You can compete against friends in laser tag, tackle the ropes course, climb the coconut climbing trees and play games in the arcade, all at affordable prices.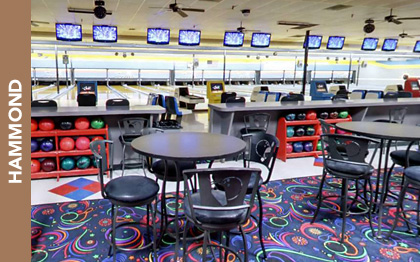 Tangi Lanes
1612 W. Thomas St.
Hammond, LA 70401
(985) 345-2653
View Website
Compete against your friends on the bowling lanes, explore the arcade and test your skills in billiards at Tangi Lanes! The recreation center also provides tasty foods such as pizza, wings, Cajun fries, corn nuggets, chili cheese nachos, and more.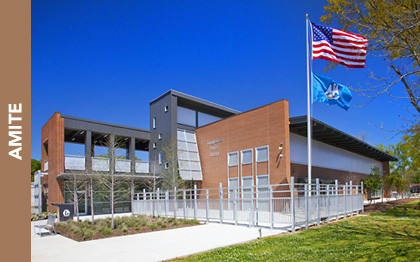 Tangipahoa Parish Library
204 N.E. Central Ave.
Amite, LA 70422
(985) 748-7559
View Website
With six branches across the parish, the Tangipahoa Parish Library provides a variety of fun and educational resources. Patrons can enjoy free Wi-Fi, access a wide selection of books, e-books, e-magazines, and DVDS, and even learn about their ancestry at the Genealogy center.
Need help? Call our award-winning support team 24/7 at (956) 334-2567
The Village of Tangipahoa is  a "Village" in Tangipahoa Parish.  Tangipahoa comes from a acolapissa word meaning "Ear of Corn."  Tangipahoa
About
Features
© 2021 Tangipahoala, All Rights Reserved