Outdoor
Activities


Cam2 Golf Club
17233 Country Club Rd.
Roseland, LA 70456
(985) 748-9760
View Website
CAM2 Golf Club's 18-hole championship golf course offers a unique challenge to both the expert and novice golfer. The course is designed for players who love the game and are ready for a challenge with a picturesque setting in the hills of northern Tangipahoa Parish.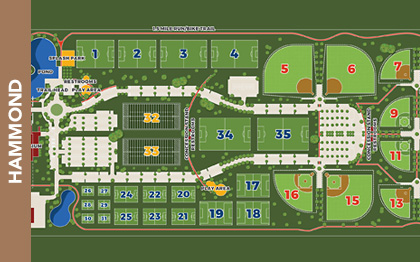 Chappapeela Sports Park
19325 Hipark Blvd.
Hammond, LA 70403
(985) 543-6767
View Website
Chappapeela Sports Park offers dozens of recreational activities and a comfortable family environment. The facility boasts over twenty soccer fields, twelve softball and baseball fields, and two regulation football fields, as well as a splash pad and a 1.5-mile walking trail accessible from dawn until dusk.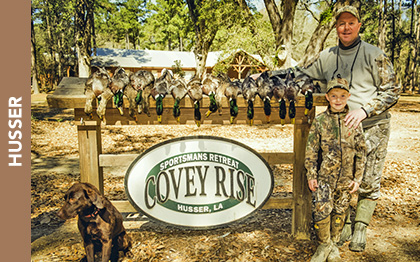 Covey Rise
24009 Singing Waterfall Rd.
Husser, LA 70422
(985) 747-0310
View Website
Covey Rise provides a traditional Southern, relaxing, full-service hunting experience. From customized on-property hunts, to shooting facilities for skeet, 5 stand and sporting clays, Covey Rise creates a one-of-a-kind event for outdoor sportsmen of all ages.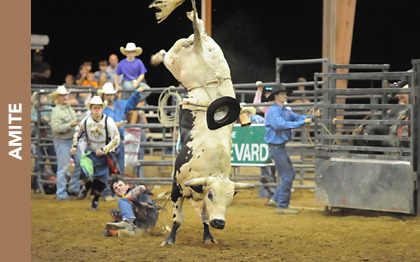 Florida Parishes Arena
1301 NW Central Ave.
Amite, LA 70422
(985) 748-5914
View Website
The Florida Parishes Arena is a multi-purpose facility that hosts dozens of events in Tangipahoa Parish. The venue presents annual events such as Vintage Market Days, and agriculture-related activities, rodeos, and much more.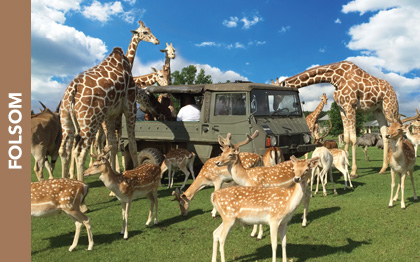 Global Wildlife Center
26389 Hwy 40
Folsom, LA 70437
(985) 796-3585
View Website
Embark on a wild interactive adventure at the Global Wildlife Center. You and your family can get up close and personal with animals such as giraffes, zebras, red kangaroos, camels, bison, and llamas.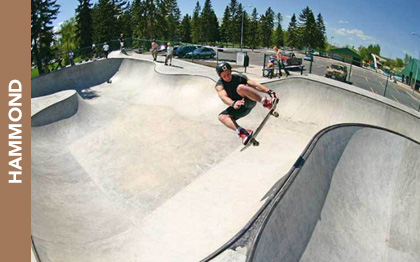 Hammond Dreamland Skatepark
601 W. Coleman Ave.
Hammond, LA 70403
Hammond Dreamland Skatepark is the perfect spot for outdoor enthusiasts everywhere. The park provides a ton of space and shade to skate, bike, and participate in other fun, recreational activities.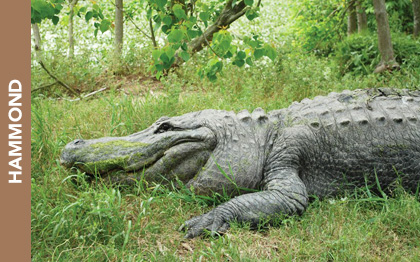 Kliebert & Sons Alligator Tours
40511 W. I-55 Service Rd.
Ponchatoula, LA 70454
(985) 345-3617
View Website
With over 300 alligators ranging from 9 to 18 feet and over 47,000 turtles, Kliebert & Sons Alligator Tours will certainly give you a feel for the swamp. You and a group of brave companions can embark on inside and outside tours and visit these interesting reptiles as they nest, sunbathe, and relax in their natural habitats.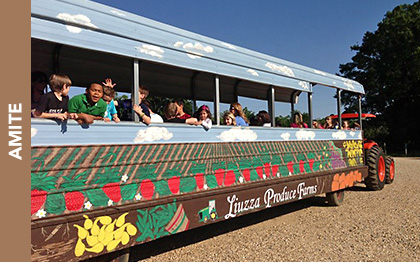 Liuzza Land
56188 Holden Cir.
Amite, LA 70422
(985) 284-0722
View Website
From attending exciting events to making priceless memories, there's always something fun to do at Liuzza Land in Amite. Visitors can board the covered wagon to learn about harvesting, pick their own strawberries and pumpkins, travel back in time and visit the Pioneer Town, and slide and jump on the gigantic Jumping Pillow and Hill Slide.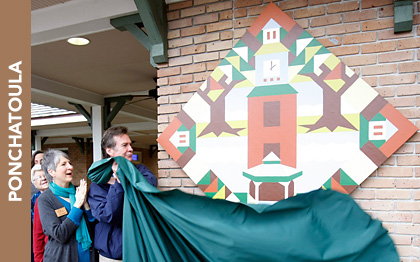 Louisiana Quilt Trail
146 W. Oak St.
Ponchatoula, LA 70454
(985) 386-8815
View Website
As the first Quilt Trail in the state, the Louisiana Quilt Trail is an artistic exhibition that showcases quilt blocks outdoors on homes, businesses, sheds, fences, and barns. It spans across five parishes around New Orleans and Baton Rouge and is designed to strengthen community pride.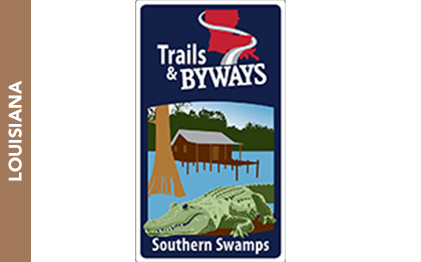 Louisiana Trails & Byways
Southern Swamps Byway (13)
(800) 542-7520
View Website
Break away from the highway and take a road trip down one of Louisiana's 19 scenic byways. From historic treasures and music festivals, to country kitchens and coastal wetlands teeming with wildlife, each drive offers you an authentic taste of Louisiana food, music, culture and natural beauty.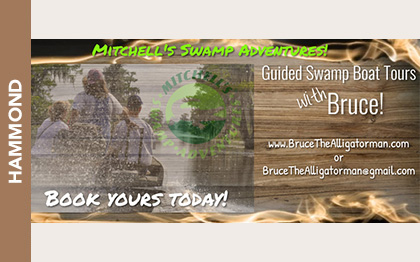 Mitchell's Swamp Adventures
41083 W Yellow Water Rd.
Hammond, LA 70403
brucethealligatorman@gmail.com
View Website
You don't want to miss this exciting, guided swamp adventure with Bruce! You will be riding in his 20ft surface Go Devil boat he hunts gators in! Bruce was born and raised hunting in the passes and bayous b/w Lake Maurepas and the famous Lake Pontchartrain! Enjoy and up close and personal exploring the swamps, bayous and passes with stories, landmarks and let's not forget the animals you may see! Gators, snakes, turtles, nutria rats, frogs, birds and so much more! Everywhere you look the scenery is absolutely breathtaking.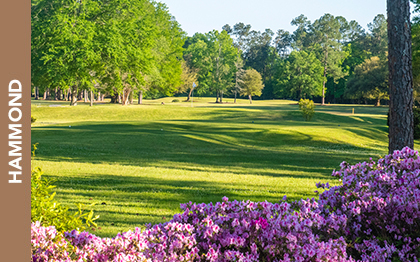 Oak Knoll Country Club
45246 Country Club Rd
Hammond, LA 70401
(985) 345-2387
View Website
This facility has history and charm. Nestled among some of Hammond's most beautiful oaks, the course offers beautiful scenery and atmosphere. At Oak Knoll you will find valuable golf lessons, children's clinics, competitive tournaments and a place where you can host events and outings.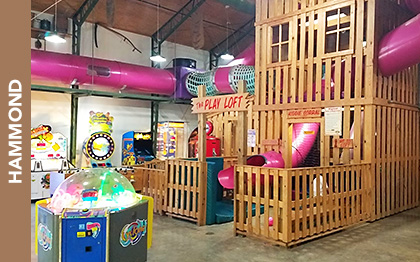 The Party Barn
15587 W. Club Deluxe Rd.
Hammond, LA 70403
(985) 687-3899
View Website
The Party Barn is The Geaux To Place for family fun! Enjoy everything from classic arcade games, to cutting-edge escape rooms, to outdoor sport activities including miniature golf and batting cages. The Party Barn also offers all-inclusive packages for parties. All you have to do is show up and enjoy!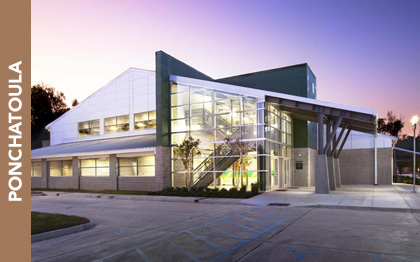 Ponchatoula Area Recreation District
19030 Ponchatoula Parks Dr.
Ponchatoula, LA 70454
(985) 370-7273
View Website
Ponchatoula Area Recreation District is a 90-acre tract that offers a variety of recreational activities for people of all ages to enjoy. You can participate in catch-and-release fishing at the pond, play football or baseball on the field, or take a relaxing stroll through the indigenous live oak and pine tree landscape.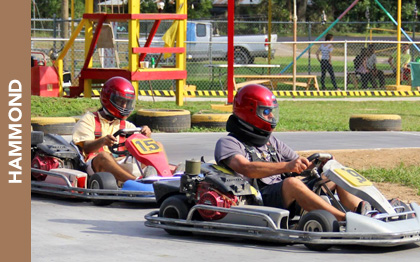 River Road Go-Kart
47329 River Rd.
Hammond, LA 70401
(985) 351-4576
View Website
Fuel your adrenaline and put some pedal to the metal at the River Road Go-Kart. You can race against nine other racers in 9hp Dino karts or 5hp single or double karts, and enter a competitive league tournament.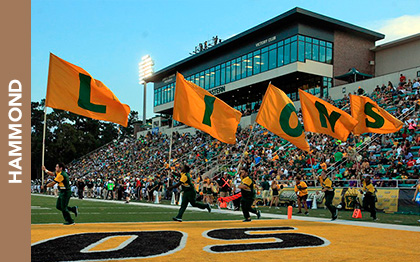 Southeastern Louisiana University Athletics
Dugas Center for Southeastern Athletics
800 Galloway Dr.
Hammond, LA 70402
(985) 549-2253
View Website
Southeastern Lions strive in the classroom and on the field. These student-athletes participate in 15 NCAA athletic programs – seven men's and eight women's sports. The Lions are members of the Southland Conference. For women, Southeastern sponsors basketball, cross country, indoor and outdoor track and field, soccer, softball, tennis and volleyball. Men's athletics include football, basketball, baseball, golf, cross country, and indoor and outdoor track and field.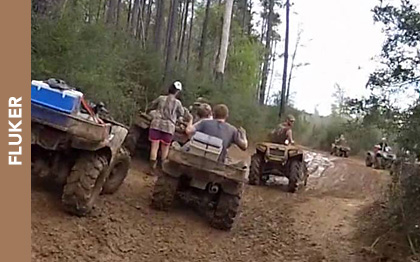 Tower Trax ATV Recreation Park
10247 Hwy. 10
Fluker, LA 70436
(985) 969-0114
View Website
Hop on a dirt bike and ride off into the sunset at the Tower Trax ATV Recreation Park in Fluker! This sports recreation venue allows you to ride across muddy trails, spend a couple nights in a cabin, park your RV on site, or embark on a camping trip.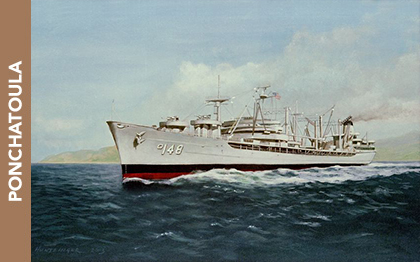 USS Ponchatoula Memorial
100 E. Pine Street
Ponchatoula, LA 70454
(800) 542-7520
View Website
The Memorial is dedicated to the officers and men who served aboard the USS Ponchatoula from its commissioning in 1956 to its retirement in 1992. The Ponchatoula was a fleet oiler built to provide underway replenishment of fuel and cargo to US Navy ships at sea. During the Vietnam War, "The Ponch" was awarded 12 campaign stars and set records for refueling US Seventh Fleet and allied warships in support of combat operations. The Memorial is a 117 scale replica of the ship's stern and contains artifacts recovered when it was scrapped in 2014.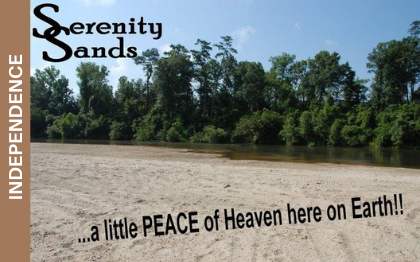 Serenity Sands
15006 Hwy 40 E
Independence La 70443
(985) 351-6771
View Website
Need help? Call our award-winning support team 24/7 at (956) 334-2567
The Village of Tangipahoa is  a "Village" in Tangipahoa Parish.  Tangipahoa comes from a acolapissa word meaning "Ear of Corn."  Tangipahoa
About
Features
© 2021 Tangipahoala, All Rights Reserved